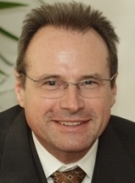 Leader of research programme, Executive Director of the Centre, Faculty of Science, Palacký University Olomouc
+420 585 634 922, ivo.frebort@upol.cz
Ivo Frébort is the Executive Director of the Centre of the Region Haná for Biotechnological and Agricultural Research. He graduated at the Palacký University and received Ph.D. in "Bioresources Science" at  Tottori University in Japan. He is the author of more than 100  scientific papers mainly in biochemistry research, enzymology and molecular biology. Some of his publications also deal with biotechnological approaches, including cloning and GMO. Since 1988, he has been employed by Palacký University and since 2005 he has been appointed full professor and the head of the Department of Biochemistry. He is a member of a number of prestigious professional societies and a chief investigator or co-investigator in more than 30 scientific-research projects.