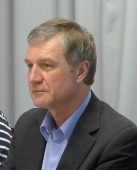 Scientific Director of the Centre and Chairperson of the Scientific Board of Centre, Institute of Experimental Botany AS CR
+420 585 238 703, dolezel@ueb.cas.cz
Jaroslav Doležel is the Scientific Director of the Centre and the head of the research program Novel Materials and Methods for Plant Breeding. Since 1983 he has been working for the Institute of Experimental Botany, Academy of Sciences CR (IEB AS CR). His scientific specialization is plant gene structure and evolution, flow cytometry application to nucleus genome analysis, genome mapping and sequencing of economically important crops. During his scientific career, prof. Doležel has participated in a number of scientific exchanges. He is the author of more than 150 scientific papers in impacted journals, the editor of 2 books and investigator or co-investigator in more than 20 projects.